FENN SKIS
Stability
First a few words about stability as this is one of the most asked questions.
The Blue Fin is the new entry ski. Anyone should be able to just jump in and paddle, very much like a plastic sit on top kayak. The big advantages over the plastic boats are lighter weight, a very efficient built in rudder and of course higher speed because they are much longer than most sit on tops.
An XT falls into the same category as an intermediate multisport boat. About half of absolute beginners can stay in an XT (although very wobbly) and the other half will go for swims.
The Swordfish is probably the best ski for most competitive paddlers. It feels like a top end ski but has lots of secondary stability. Itís a bit like having trainer wheels, not much inherent stability when level but becoming more stable when it starts to lean.
The Elite range of skis is aimed at the top end paddler. Stability wise there is not much difference between them, with the standard Elite maybe slighly more stable than the others.
Two things just need to be remembered as well, a heavier boat will always feel more stable than a light boat, especially in windy or choppy conditions. And if the leg length is too short (only an issue with a Millenium or if you are too lazy to adjust the leg length) the boat will feel more unstable.
Adjustability
All new Fenn surfskis have adjustable footrests, the doubles are even adjustable both front and rear. Most skis will accommodate paddlers from about 5í5 up to 6í6.
The Elite Spark is designed especially for shorter and lighter paddlers.
Weight
Fenn surskis are handmade and there is always a small variance in weight. In the old days the variance could be up to 2kg, but in the last few years Iíve found that weights between skis of the same construction generally do not vary by more than a few hundred grams.
Actual average weights of skis in the last container for different constructions were:
New carbon (grey finish): 10 to 10.5kg
Old carbon (white finish): 11kg
Hybrid (grey finish): 12 to 12.5kg
Vacuum glass: 13.5 to 14kg.
Glass: 16 to 17kg.
Elite
The Elite is my favourite ski in big conditions. It just loves big wind swell, the bigger it gets the better the boat performs and the more fun it is. The rudder is very forgiving, instead of just letting go as was often the case with older skis it gives the paddler lots of warning when pushing the limits. The ski is very good at diagonal surfing, conditions often experienced at the Takapuna Beach series races.
Length: 6.4 metres
Width: 430 mm
Elite SL
The SL is superb in ocean swells. It has a very high top end speed which is necessary for ocean swells which often move along at more than 20km/hr.
<![if !vml]>

<![endif]>
<![if !vml]>

<![endif]>
Length: 6.45 metres
Width: 425 mm
Elite Glide
The Glide is the latest top end ski from Fenn designed for the top end paddler. Itís quick but a bit twitchier than the standard Elite.
<![if !vml]>

<![endif]>
Hereís what a happy NZ Glide owner has to say:
Have had a few paddles in it now and loving it! Weight is great, very light considering itís not even the full carbon. New cockpit is a nice fit compared to the older Elites which I found too roomy.
VERY fast on the flat and just loves catching the small bumps. I think the seat is higher than the Elite and although the primary stability is very good for a top end ski it is a bit twitchy when it get rougher. (Similar to my Sharpski and definitely more stable than my Atom though!)
Only had one short downwind run and it surfs beautifully and predictably as you would expect from a Fenn, although it can be a bit twitchy just at the crest of a wave so not quite as solid as the Elite perhaps.
The paddle cutouts are great for a close catch and an added bonus is they also prevent my hands from hitting the rails after the catch as mine sometimes do in my Atom.
Let you know some more impressions after a decent downwind or 2, but all in all its exactly what I was after: A ski I can race in all conditions from dead flat to solid downwind and not have any weaknesses. A really nice allrounder!
I think Fenn have a superb top end ski with this one.
Just had a nice solid 2 hour downwind this afternoon and I have to say Iím REALLY impressed with the ski!
Had 15-20 knots with a nice wind swell and underlying 1.5 m groundswell underneath it too. The Ski was picking up the medium sized runs easily and really flying, I could link several waves together effortlessly sometimes with just a few strokes in between.
Clocked 23.5 kmh on one wave which i was impressed with for the moderate wave size. Really notice the light weight with excellent accelleration and the new rudder works well-- feels nice and balanced and maneouverable . After a while I got it dialled in and barely noticed the twitchiness I mentioned last time. Very predictable once you re surfing.
The narrow bow lets you smash through the wave in front if you have to and actually has more volume than I thought, didnít bury the nose much at all (Will have to try that when it gets big)
The only negatives I could find were that the paddle cutouts donít run far enough forward if your tall (Iím 6'2") I was hitting the deck at the front end of the cutout occasionally with the paddle-- another 200mm would have been good.
Also the Venturi hoods are a bit agricultural, I will be fairing the edges a bit and fitting some bullets. Saying that the cockpit drained super fast!
Looking at the hull shape I see it has a nice little flat section under and behind the seat, but I like the way it doesnít carry too far back. I canít say Iím a fan of the big arsed boats (Epic etc) they seem to go well in the waves but suffer in the flat.
Speaking of the flat I will be interested to time trial it as it seems to have a really fast cruise speed on the flat. Also phenomenal stability on calm water!!
I did our local 2 km time trial in the Glide a few weeks back and was only 2 seconds off my PB in the Atom (despite getting tangled up with 2 Waka Amas on the course) so its right up there for flat water speed.
Also I dont think this ski is purely a flat water ski as I have had some great downwind sessions on it and finding it as good as any ski Iíve paddled downwind including the Elite.
Length: 6.44 metres
Width: 425 mm
Elite Spark
The Spark is tiny. Itís supposed to be for short paddlers only but I can just get my 6Ē3 with long legs to fit. Itís great into the wind and has the classic Fenn surfing feel, picking up little bumps really nicely. It handles big ocean swell really well, but with an all up weight (ski plus paddler) of 95kg water starts coming over the sides when jumping waves in large, steep wind swell.
Length: 6.44 metres
Width: 425 mm
Swordfish
The Swordfish is an intermediate/advanced ski. Read what real paddlers have to say about the Swordfish here.
Here are my views:
In flat water itís slightly slower than the top end skis but not by much. I can easily stay with other paddlers at my level while sitting on their wash, but it requires a bit more effort paddling next to them.
The big surprise is surfing. It is absolutely superb in big downwind conditions, especially when it gets a bit technical. The manoeuvrability and extra stability in steep messy waves makes it the most fun ski Iíve ever paddled. In these conditions the Swordfish is just as fast as or faster than any of the other top end skis.
Seats are personal, what one person loves another will hate and the other way round. For me the Swordfish has the most comfortable seat of any ski Iíve paddled.
<![if !vml]>

<![endif]>
<![if !vml]>

<![endif]>
Length: 6.1 metres
Width: 450 mm
XT
This is an intermediate ski, a bit of a challenge for total novices but usually mastered after a few days of paddling.
<![if !vml]>

<![endif]>
<![if !vml]>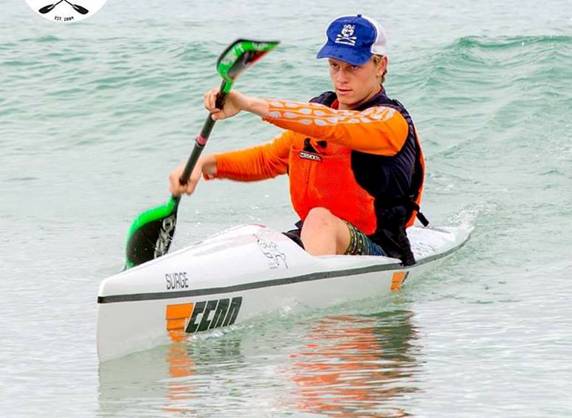 <![endif]>
Length: 5.9 metres
Width: 480 mm
Blue Fin
The Blue Fin is an entry level ski. Itís perfect for learning to paddle, and also as a recreational ski for those who donít get a chance to get on the water very often.
Feedback from the Blue Fin is that is really is a ski that a total beginner can jump in and just paddle away. Over the years I have found that many novices found the XT challenging, and were put off by numerous swims during their first attempts to paddle it. The Blue Fin changes all that, even the first paddle will now be a pleasant experience.
Length: 5.9 metres
Width: 530 mm
LS
The LS is the new Fenn surf lifesaving ski. It comes standard with adjustable footrests and is available in a deep or shallow seat version. If conforms to Australian SLS specifications and is available in NZ with or without the SLSA approval label.
Looking at the evolution of ocean racing skis (which originally started off as spec skis) adjustable footrests are bound to become a standard feature of SLS within the next few years. For small clubs that can only afford a few skis, three adjustable Fenn LS skis which anyone can paddle cost the same as two fixed leg length skis that one a few paddlers can paddle.
I took the deep seat LS out at the Mount in some big conditions and was amazed at its stability. The nose looks really small when paddling in the ski, but it never ended up diving underwater, the nose is not pointed like the ocean racing skis but widen quickly to give lots of nose volume.
<![if !vml]>

<![endif]>