FENN SKIS
Introduction
Before we start itís important to make one thing clear. The perfect ski does not exist, if it did every manufacturer would only be making one ski, namely the perfect ski.
Every ski from every manufacturer is a compromise. It might be perfect for a certain paddler in certain conditions, but no good for another paddler in the same conditions. Similarly a paddler would love a ski in one set of conditions, but not like it at all if the conditions change.
For this reason all manufactures produce more than one ski. Fenn makes 11 different models, each optimised for a certain level of paddler and for a certain set of conditions.
A bit of history
Fenn started manufacturing surfskis is the 80ís and produce about 1500 surfskis every year. In June 2019 the factory burnt down and was rebuilt, most mould were lost in the fire and had to be remade. The skis from the new moulds have been rebranded as Fennix, all skis with a Fennix sticker were thus manufactured after the factory fire.
The Fenn/Fennix model range
The Bluefin S is Fennís entry level ski. Anyone should be able to just jump in and paddle, very much like a plastic sit on top kayak. The big advantages over the plastic boats are much lighter weight, a very efficient built in rudder, and of course higher speed because they are much longer than plastic sit on tops.
The XT S falls into the same category as an intermediate multisport boat. About half of absolute beginners can stay in an XT S (although very wobbly), the other half will go for a few swims before getting the hang of it.†
The Swordfish S is probably the best ski for many competitive paddlers. It feels like a top end ski but has lots of secondary stability. Itís a bit like having trainer wheels, not much inherent stability when level but becoming more stable when it starts to lean.
The Elite range of skis is aimed at the top end paddler. There is the standard Elite, Elite S, Glide, Surge and Spark. Stability wise there is not much difference between these 4 skis.
Then there are the LS surf lifesaving skis designed and manufactured to meet NZ surf lifesaving standards.
On the double ski front there are three options, the Elite S for top end paddlers, the Flying Fish for intermediate paddlers and the XT S for beginner/intermediate paddlers.
Construction
After deciding on the model of the ski, the next step is to decide on the construction. Fenn has stopped production of basic glass and polyvac skis, all new skis from the factory will now be one of:
Glass Vac: Vacuum bagged fibreglass, vinylester resin.​
Fenn vacuum bag all layups which give a consistent weight and even spread of resin throughout the ski. The glass vac layup offers the customer an affordable ski.
Hybrid: Vacuum bagged fibreglass/carbon, epoxy resin.
The Hybrid layup uses a special layer of carbon and fibreglass interwoven fabric along with another layer of fibreglass. This layup creates strength while reducing weight enabling a more affordable product. There is very little difference between full carbon and hybrid layups in ​weight making this layup a first-class racing product.
Carbon: Vacuum bagged carbon, epoxy resin.
This layup is the premium layup for these types of craft. Carbon and epoxy are used and vacuum bagged to create a light and stiff racing craft.
Actual average weights for the different constructions are:
Vacuum glass (white gelcoat finish): ~14.5kg.
Hybrid (grey epoxy finish): ~12.5kg
Full carbon (grey epoxy finish): ~9.5 to 11kg (depending on model)
Surf lifesaving skis have to weigh at least 18kg (itís in the rule books) so there is no point using expensive carbon fibre and epoxy to save weight. The LS skis are only available in vacuum glass constructions.
Bluefin S
The Bluefin S is Fennís entry level ski. Itís perfect for learning to paddle, and also as a recreational ski for those who donít get a chance to get on the water very often.
Feedback from the Bluefin S is that is really is a ski that a total beginner can jump in and just paddle away. Over the years I have found that many novices found the XT challenging, and were put off by numerous swims during their first attempts to paddle it. The Bluefin changes all that, even the first paddle will now be a pleasant experience.
Length: 5.9 metres
Width: 530 mm
XT S
This is an intermediate ski, a bit of a challenge for total novices but usually mastered after a few days of paddling.
<![if !vml]>

<![endif]>
<![if !vml]>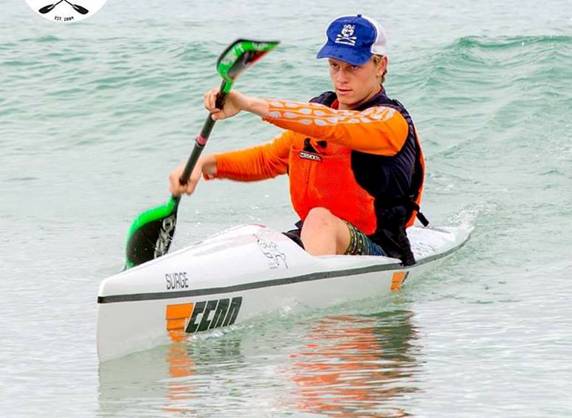 <![endif]>
Length: 5.9 metres
Width: 480 mm
Swordfish S
The Swordfish S is an intermediate/advanced ski.
<![if !vml]>

<![endif]>
<![if !vml]>

<![endif]>
Length: 6.1 metres
Width: 450 mm
It has the same hull but a few changes have been made to the deck. The seat has been moved forward ~2cm which improves performance in flat and small conditions. Some paddlers complained about dead leg syndrome with the old Swordfish seat, the Swordfish S seat has solved that problem and many paddlers say they absolutely love the new S seat.
Elite
The Elite is my favourite ski in big conditions. It just loves big wind swell, the bigger it gets the better the boat performs and the more fun it is. The rudder is very forgiving, instead of just letting go as was often the case with older skis it gives the paddler lots of warning when pushing the limits. The ski is very good at diagonal surfing, conditions often experienced at the Takapuna Beach series races.
Length: 6.4 metres
Width: 430 mm
Elite S
The Elite S is essentially a standard Elite with the same tweaking that was done to the Swordfish. It has a more comfortable seat located slightly forward, and less volume in the nose. It is my favourite ski in small conditions, in big conditions the standard Elite is still king.
Spark S
The Spark is tiny. Itís supposed to be for short paddlers only but I can just get my 6Ē3 with long legs to fit. Itís great into the wind and has the classic Fenn surfing feel, picking up little bumps really nicely. It handles big ocean swell really well, but with an all up weight (ski plus paddler) of 95kg water starts coming over the sides when jumping waves in large, steep wind swell.
Length: 6.44 metres
Width: 425 mm
Surge
The Surge is a new top end, low volume ski designed mainly for flatish conditions. At 5.8m long it is shorter than the other top end skis, making it manoeuvrable without much rocker. The Surge is available in wide and narrow seat versions, the narrow seat is 8mm lower improving stability while the wide seat is suitable for advanced paddlers only.
<![if !vml]>

<![endif]>
Length: 5.82 metres
Width: 425 mm
Bonito
The Bonito is a new ski specially designed for kids. Itís also an amazing surfing boat in big conditions, one of the Fenn sons was paddling one in Mauritius and I was working hard to keep up in an Elite!
<![if !vml]>

<![endif]>
LS
The LS is the new Fenn surf lifesaving ski. It comes standard with adjustable footrests and is available in deep or shallow seat version. If conforms to SLSNZ specifications.
Looking at the evolution of ocean racing skis (which originally started off as spec skis) adjustable footrests are bound to become a standard feature of SLS within the next few years. Having a ski that will fit any paddler means that clubs no longer need a range of skis to cover a range of leg lengths.
I took a deep seat LS out at the Mount in some big conditions and was amazed at how stable and well behaved it was. The nose looks really small when paddling in the ski but it never ended up diving under.
<![if !vml]>

<![endif]>
Jasper Mocke winning the South African SLS champs.
Adjustability
All new Fenn surfskis have adjustable footrests, the doubles are even adjustable both front and rear. Most skis will accommodate paddlers from about 5í5 up to 6í6. The Swordfish S and Elite S have a smaller bump and will accommodate paddlers shorter than 5í5.
The Spark is designed especially for shorter and lighter paddlers.